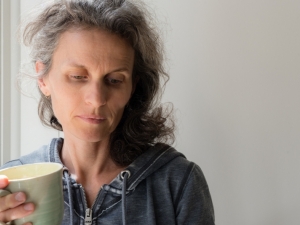 This team was the first to examine how early adversity influences the onset of major depressive disorder (MDD) during the menopause transition, and how the timing of the traumatic event might affect that onset.
Two hundred and forty-three women between 35 and 47 years old at the time they enrolled—all deemed premenopausal with normal menstrual cycles—underwent behavioral, cognitive and endocrine evaluations at predetermined intervals from 1996 to 2012. Over the 16 years, each woman also completed an average of 12 assessments for cognition and mood, as well as blood samples to measure hormone levels.  Between study years 14 and 16, phone interviews were conducted to assess menopausal status and participants were administered the Adverse Childhood Experiences Questionnaire (ACE-Q) to assess the relationship between stressful or traumatic events experienced in adolescents and health outcomes.
The results demonstrated that women who experience multiple traumatic events during childhood or adolescence are more than twice as likely to experience depression in the years leading into menopause (known as perimenopause). Even women who had never experienced depression previously were shown to be especially susceptible during perimenopause if they experienced their first traumatic event during their teen years.
Conducted by a Perelman School of Medicine team, led by C. Neill Epperson, MD, the study benefited from its long-term approach. "Following these women for so many years allowed us to track the significant changes many of them experienced with the onset of the transition to menopause," said co-author Mary Sammel, ScD. The authors say that though the study is based on nearly 3,000 assessments, we need further research to determine the effects of ACE frequency and severity, and the potential impact of hormone therapy on the risk of MDD during menopause.