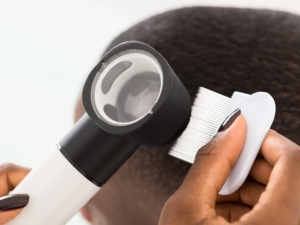 Psoriasis is less common among members of racial minorities—but when it does occur, it can be more burdensome. This study team showed that minorities are less likely than white Americans to see a doctor for psoriasis treatment—and brought to public attention a disparity that should be addressed.
The researchers found that black, Asian, and other non-Hispanic minorities are collectively about 40 percent less likely to see a dermatologist for psoriasis than whites. And whites averaged about double the number of doctor's appointments for psoriasis overall, compared with non-Hispanic minorities.
Psoriasis, which affects more than seven million Americans, is a chronic inflammatory disease that causes skin cells to multiply faster than normal—resulting in raised, red plaques covered by silvery scales. However it also profoundly affects health-related quality of life, and in moderate to severe cases, it carries an increased risk of heart attack, stroke and premature death.
"While psoriasis is less common among minorities, previous research has shown their disease can be more severe. Despite that, this study shows minorities are less likely to see a dermatologist for treatment," said the study's senior author Junko Takeshita, MD, PhD, MSCE.
The researchers gathered data from the Medical Expenditure Panel Survey, the most complete source of data currently available on healthcare utilization, cost and insurance coverage in the United States. All of the information is self- or caregiver-reported over a series of interviews, and is designed to represent the general population. The team used information from 2001 through 2013 and identified 842 psoriasis individuals, who represent more than 1.6 million Americans.
 "When you combine the results of our study with the knowledge that psoriasis severity and quality-of-life impact suggest a larger burden of psoriasis among minorities, it brings into focus the racial gaps that exist in psoriasis care," Takeshita said.
The researchers say more research is needed to understand what causes these disparities and whether the gap in medical care directly contributes to the increased severity of disease among minorities.
"Ultimately, increasing awareness of these disparities is the first step in trying to provide equitable care and improve outcomes for all individuals with psoriasis," Takeshita said.