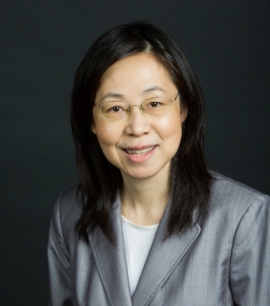 Sharon Xiangwen Xie, PhD
Professor of Biostatistics
Dr. Xie is currently principal investigator of an NIH-funded statistical method R01 grant that aims to develop novel statistical methods for assessing dementia risk in Parkinson's disease and related disorders. She is also the director and principal investigator of the biostatistics and data management core for three NIH-funded neurodegenerative disease research centers/program project grants: the Alzheimer's Disease Center, Center on Alpha-Synuclein Strains in Alzheimer's Disease and Related Disorders, and the frontotemporal lobar degeneration program project grant. Please see Sharon Xie's Research Lab Website for additonal details about her team members and research. 
Dr. Xie's current research goals are twofold. First, she continues to develop new statistical methods for survival analysis, missing data, measurement error problems, high dimensional data, biomarker evaluations, and longitudinal analysis in response to methodological problems that arise in her collaborative work in the research of neurodegenerative diseases (e.g., Alzheimer's disease, Parkinson's disease, frontotemporal dementia, amyotrophic lateral sclerosis) and in other collaborative research. Second, she continues to study the epidemiology of neurodegenerative diseases.
Dr. Xie is an elected Fellow of the American Statistical Association. She is currently an Associate Editor of Alzheimer's & Dementia. She was the program chair for the Biometrics Section of 2019 Joint Statistical Meetings. She is a former chair of the National Institute on Aging Alzheimer's Disease Center Data Core Steering Committee. She has served as an elected standing member of the Parkinson Study Group Scientific Review Committee (2016 – 2019) and the National Alzheimer's Coordinating Center (NACC) Scientific Review Committee for the National Institute on Aging (2015-2019). Dr. Xie was the recipient of the 1999 Young Investigator Award of Statistics in the Epidemiology Section of the American Statistical Association, and in 2005 and 2011 she received the University of Pennsylvania Graduate Program in Biostatistics Teaching Award.
Content Area Specialties
Neurodegenerative diseases, aging, biomarkers, cancer
Methods Specialties
Survival analysis, missing data, measurement error problems, high dimensional data, biomarker evaluations, longitudinal analysis