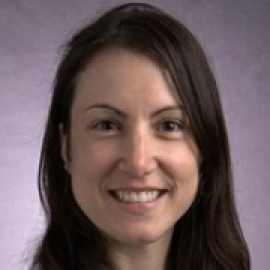 Sarah Jeanne Schrauben, MD, MSCE
Assistant Professor of Medicine and Epidemiology
Dr. Schrauben's research focuses on the impact of health behaviors and modifiable risk factors in the development and management of chronic kidney disease (CKD) and its complications, and addresses implementation gaps of evidence-based care in CKD. She has contributed to the growing evidence base that seeks to prioritize behavior recommendations for management of CKD and to assess barriers to healthy behavior engagement. She has conducted studies that have identified high levels of substandard health behavior engagement among adults with CKD and phenotypes of behavior engagement that associate with clinical outcomes in this population.
Her present work includes assessing for real-time barriers to self-management health behaviors by interviewing patients with CKD and testing the feasibility of a patient-centered behavioral intervention that leverages mobile health technology to increase engagement in healthy behaviors. Dr. Schrauben is moving into the area of functional status among those with kidney disease and also implementation science in order to address implementation gaps in evidence-based CKD care. Her future work aims to guide the development of innovative strategies to improve clinical and patient-reported outcomes in CKD.
Dr. Schrauben is a faculty member in the Renal-Electrolyte and Hypertension Division in the Department of Medicine. She is currently the principal investigator of a K23 grant funded by the National Institute of Diabetes Digestive and Kidney Diseases. She also serves as  a coinvestigator of the Chronic Kidney Disease Biomarkers Consortium at the Scientific Data Coordinating Center at Penn.
Content Area Specialties
Chronic kidney disease, functional status, renal epidemiology, biomarkers, patient-centered outcomes, cardiovascular epidemiology, behavioral medicine research, adherence, implementation science
Methods Specialties
Survival analysis, latent class analysis, qualitative research methodologies