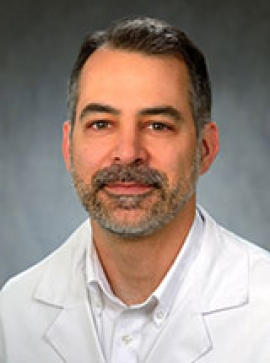 Michael G.S. Shashaty, MD, MSCE
Assistant Professor of Medicine
Dr. Shashaty's career is focused on epidemiologic and translational research studies of the risks for and mechanisms of acute organ dysfunction, primarily acute kidney injury (AKI), in critical illness populations.

Dr. Shashaty's studies are mostly focused on critically ill trauma, sepsis, and lung transplant patients. In collaboration with his research mentor, Dr. Jason Christie, he is the primary manager of Penn's cohort study of acute organ dysfunction after trauma. In this population he has studied clinical, molecular, and genetic risk factors for AKI. Current studies include 1) adipokines and inflammatory mediators as mechanisms underlying the association of obesity and AKI, and 2) programmed necrosis as a mechanism of cell death in AKI. These lines of inquiry are supported by an NIH K23 Mentored Career Development Award as well as prior funding from a McCabe Fund Pilot Award.

Dr. Shashaty received a Penn University Research Foundation Award to study AKI after lung transplantation. Projects in this population are focused on the fundamental clinical epidemiology of AKI, molecular markers of AKI, and AKI prediction. 

Dr. Shashaty collaborates in multiple other research efforts at Penn. In trauma, he is a co-investigator for a Department of Defense Grant (Dr. Nilam Mangalmurti, PI) to study molecular markers of necroptosis as mediators of transfusion-associated acute respiratory distress syndrome. He also works with Dr. Nuala Meyer to manage the division's Molecular Epidemiology of Severe Sepsis in the ICU (MESSI) cohort, in which he spearheads both epidemiologic and molecular studies of AKI risk. He partners with other critical care researchers on studies of ARDS, delirium and cognitive dysfunction, and frailty in both sepsis and trauma populations. He also collaborates with translational and epidemiologic investigators in the Renal, Electrolyte, and Hypertension Division to study mechanisms, early identification, and outcomes of AKI.
Content Area Specialties
Dr. Shashaty is specialty-trained in internal medicine, pulmonary diseases, and critical care medicine. He is an attending physician at the Hospital of the University of Pennsylvania (HUP), with the majority of his clinical time spent in the medical intensive care unit. He also attends on the Critical Care Outreach and Procedure Service (CCOPS) and at the Good Shepherd Penn Partners Long Term Acute Care Hospital (LTACH). He is actively engaged in teaching fellows, house officers, and medical students through both HUP clinical services and classes at the Perelman School of Medicine.