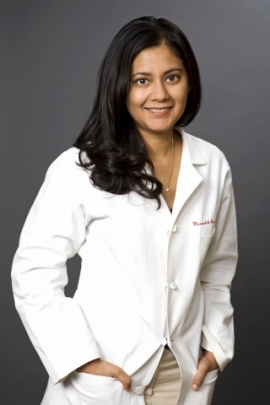 Meenakshi Bewtra, MD, PhD, MPH
Assistant Professor of Medicine and Epidemiology
Dr. Bewtra is a clinical epidemiologist whose research has focused on inflammatory bowel disease (IBD) for more than a decade. She has investigated IBD's natural history, outcomes and related medication safety, using observational data and statistical modeling. She has examined measures of risk and risk tolerance for therapies using discrete choice experiment. And she has conducted clinical trials for educational interventions and novel therapies.
Dr. Bewtra is also the principal investigator of the IBD-Immunology Initiative, a prospective clinical and tissue biobank active at Penn that aims to improve personalized medicine in inflammatory bowel disease by examining the basic mechanisms of IBD and predictors of response to therapies. She has served as a research mentor to medicine residents and fellows in the Perelman School of Medicine's gastroenterology division and to Masters of Science in Clinical Epidemiology program applicants in the CCEB.
Dr. Bewtra's work has been funded by the National Institutes of Health, the Crohn's and Colitis Foundation, the American Gastrointestinal Association, the Patient Centered Outcomes Research Institute, pharmaceutical industries and private philanthropy.
Content Area Specialties
Gastrointestinal epidemiology, public health categorical data, clinical trials, complex sample surveys, health services research, meta-analysis, multivariate analysis, survival analysis
Methods Specialties
Categorical data, clinical trials, complex sample surveys, health services research, meta-analysis, multivariate analysis, survival analysis, discrete choice experiment, large database analysis