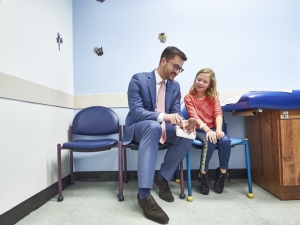 Kidney stones have become much more common in the U.S. over the past few decades, particularly among adolescents and young women—a striking trend, given that the condition used to be rare among the young. The causes have been a mystery; but a recent study has uncovered strong evidence that certain common oral antibiotics may be a culprit. In fact, one class of drugs appeared to double the risk.
Led by Gregory Tasian, MD, MSc, MSCE, researchers examined the electronic health records of 13 million adults and children in the United Kingdom. The team analyzed prior antibiotic exposure in nearly 26,000 patients who had kidney stones, compared with nearly 260,000 control subjects. They found that five classes of oral antibiotics—oral sulfas, cephalosporins, fluoroquinolones, nitrofurantoin, and broad-spectrum penicillins—were associated with a diagnosis of kidney stone disease. After adjustments for variables, patients who received sulfa drugs still were more than twice as likely to have kidney stones. Broad-spectrum penicillins appeared to increase the risk 27 percent.
"Our findings suggest that oral antibiotics do play a role, especially given that children are prescribed antibiotics at higher rates than adults," commented study co-author Michelle Denburg, MD, MSCE. Disruptions in the intestinal and urinary microbiome previously had been linked to the occurrence of kidney stones, but this study was the first to reveal an association between antibiotic usage—which is known to alter the human microbiome—and kidney stones.
Dr. Tasian pointed out that other researchers have found that roughly 30 percent of antibiotics prescribed in office visits are inappropriate, and the new findings reinforce the need for clinicians to be careful in prescribing correct antibiotics. "Our findings suggest that antibiotic prescription practices represent a modifiable risk factor: a change in prescribing patterns might decrease the current epidemic of kidney stones in children," he said.
Another co-author of the current paper, Jeffrey Gerber, MD, PhD, leads programs in antibiotic stewardship. Drs. Tasian, Denburg and Gerber are affiliated with the Children's Hospital of Philadelphia and are senior scholars of the CCEB, which holds the dataset for the study and partnered with CHOP in the research.