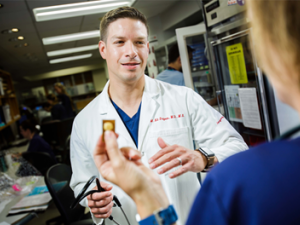 When patients who've never used opioids before are prescribed large numbers of tablets for acute pain, they're more prone to becoming long-term users and more likely to have leftover tablets that could be diverted for misuse and abuse. Setting low opioid prescription default quantities in electronic medical record orders can help, showed a study led by M. Kit Delgado, MD, MS (pictured).
At two Penn Medicine hospitals, the electronic medical record default setting was changed to 10 tablets. Initial prescriptions for that quantity shot up from 21 percent to 43 percent. Conversely, the number of prescriptions for 20 tablets decreased by almost seven percent, and prescriptions for 11 to 19 tablets decreased by more than 13 percent.
"Our results represent a promising and much-needed scalable approach that could successfully nudge physicians managing acute pain to prescribe smaller doses of opioid medications for those who need them," said Dr. Delgado.  "We know that prescribing too many opioid tablets for acute pain increases a patient's risk for long-term use or the potential to be abused if left in the medicine cabinet, so making it easier to prescribe quantities consistent with current guidelines while still keeping physician autonomy is an important part of addressing the opioid crisis we're facing in this country."
The number of people in the U.S. who die from prescription opioid overdoses continued to rise in 2016, according to the U.S. Centers for Disease Control and Prevention (CDC).