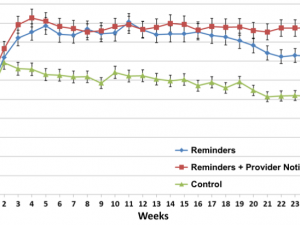 When patients don't follow their regimen for immunosuppression, they're at more risk after kidney transplantation; this study investigated new ways to meet this challenge. 
They conducted a randomized controlled trial, which enrolled patients at a single center. Wireless-enabled pill bottles have created the opportunity to monitor the situation in real time; the authors sought to improve medication adherence as measured through this tool.
They found that reminders may help, and providing adherence data to providers may motivate patients and help identify barriers to adherence. They determined that these strategies need to be evaluated in trials that can detect differences in clinical outcomes.