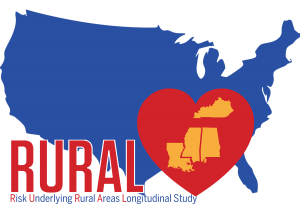 Funding: NHLBI
Investigator(s): Ramachandran, V
The Risk Underlying Rural Areas Longitudinal (RURAL) Cohort Study, coordinated by Vasan Ramachandran, MD, at The University of Texas at San Antonio (UTSA) and funded by the National Heart, Lung, and Blood Institute (NHLBI), is a six-year research project seeking to understand why people born in rural communities in the South live shorter and less healthy lives than do their counterparts elsewhere in the country. The RURAL Cohort Study will investigate what causes the burden of heart, lung, blood and sleep (HLBS) disorders in select rural areas in Kentucky, Alabama, Mississippi and Louisiana and will offer clues regarding how to address these problems.
The RURAL Cohort Study began recruitment in January 2021. To better understand why certain factors amplify risk in some rural counties and what renders some communities more resilient, researchers will recruit and study 4600 residents in 10 rural counties in Alabama, Kentucky, Louisiana, and Mississippi. Using a self-contained mobile examination unit, a transdisciplinary team will conduct a detailed baseline examination on the study participants. Familial, lifestyle and behavioral factors, along with medical history including risk for HLBS disorders, will be recorded. Environmental and economic factors will also be studied and standard and novel risk factors for HLBS disorders will be assayed. 
The CRCU serves as the Statistical and Data Coordinating Core (SDCC) for the study, led by Richard Landis, PhD, and Qi Long, PhD. The SDCC will be responsible for data collection, processing and analysis for multidisciplinary research projects across the cores, working groups, and repositories. It will provide operational support and training to each RURAL Cohort Study site for implementing protocols, quality assurance and control, and biostatistical and study-design support. Perhaps most important, it will provide methodological innovation.
RURAL website  https://www.theruralstudy.org/