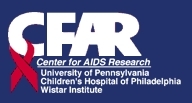 Funding: NIAID
Investigators: Hoxie, JA; Ellenberg, SS
The Penn Center for AIDS Research (Penn-CFAR) is one of 18 NIH-funded CFARs, and includes HIV and AIDS investigators at the University of Pennsylvania, the Children's Hospital of Philadelphia (CHOP), and the Wistar Institute.
The CRCU developed, and maintains the Clinical Core Cohort Registry (CCCR) database, and provides informatics expertise related to database design, development of data collection instruments, data entry and retrieval, quality control and report generation. This past year we expanded our behavioral and mental health collaborative efforts and technological outreach. The project is in its 18th year.