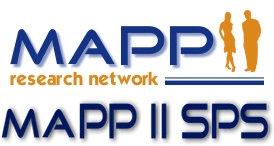 Funding: NIDDK
Investigator: Landis, JR
The Clinical Research Computing Unit (CRCU) in its role as the Data Coordinating Core (DCC) for the MAPP Research Network, provides overall coordination, logistical support, and implementation for all aspects of the study protocol including data collection, data processing, tracking of participant recruitment, tracking of specimens, training, quality assurance, and statistical analysis, through its clinical data management, project management, and software systems development teams. The DCC  developed written standard operating procedures (SOPs) to ensure that all aspects of the study are conducted in a standard and uniform manner. These procedures consist of Personnel Training and Certification, Clinical Protocol, MOP Adherence and Auditing Activities, Database Auditing, Database Administration and Network Security, Data Reporting, Preparation and Integrity of Analysis Datasets, and Data Management. 
The overall MAPP DCC responsibilities include:
Facilitating the conduct of multi-disciplinary basic and translational research, by providing scientific leadership in the design and implementation of research projects across the MAPP Research Network;
Promoting network-wide quality assurance standards, practices and tools, including a comprehensive, state-of-the-art secure web-based data management system (DMS) for collection and centralized storage of all multi-site study data, and permits tracking and coordination of all Trans-MAPP Research Network activities within the framework of multidisciplinary project teams;
Development and maintenance of the MAPP longitudinal data collection website for patient-reported outcomes;
Collaborating with the TATC Laboratory on best practices for data collection, specimen tracking and storage, as well as support technical processes between the DCC and TATC
Providing biostatistical expertise in research design, outcome measures and analytic strategies for translational and clinical investigations of UCPPS;
Guiding and implementing statistical analyses, interpretation of findings, and supporting presentations and publication of results;
Providing comprehensive Data Coordinating Core administrative support for the MAPP Research Network, promoting effective communications, coordinating meetings, working groups, document development and management, and distribution of study proceedings;
Supporting the MAPP Research Network Ancillary Projects - assisting in their design, as well as implementing a process for the submission, review, and development of ancillary studies.