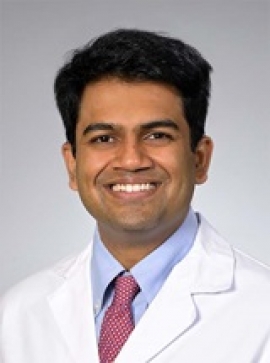 Vishnu Potluri, MD, MPH
Assistant Professor of Medicine and Epidemiology
Vishnu Potluri, MD, MPH is an Assistant Professor in the Renal Division and a Senior Scholar at the Center for Clinical Epidemiology and Biostatistics at the University of Pennsylvania. Dr. Potluri's research focuses on improving health care outcomes for patients with end stage kidney disease by improving access to kidney transplantation, reducing health care disparities, and improving outcomes and utilization of donated organs. His research efforts are supported by a career development grant (K08) from the National Institute of Diabetes and Digestive and Kidney Diseases (NIDDK). Dr. Potluri's methodological interests includes geospatial epidemiology, multivariable matching methods, and big data analytics.
Selected Publications:
Schaubel DE, Tran AH, Abt PL, Potluri VS, Goldberg DS, Reese PP.: Five-Year Allograft Survival for Recipients of Kidney Transplants From Hepatitis C Virus Infected vs Uninfected Deceased Donors in the Direct-Acting Antiviral Therapy Era JAMA 328 : 1102-1104,2022.
Saine ME, Schnellinger EM, Liu M, Diamond JM, Crespo MM, Prenner S, Potluri V, Bermudez C, Mentch H, Moore M, Besharatian B, Goldberg DS, Barg FK, Reese PP.: Decision-making Among Hepatitis C Virus-negative Transplant Candidates Offered Organs from Donors with HCV Infection Transplant Direct 8 : e1341,2022.
V. Potluri, P. Reese, S. Prenner, H. Mentch, D. Goldberg, T. Claridge, J. Smith, C. Gentile, V. Van Deerlin, R. Reddy, T. Fallah, C. Bermudez, M. Crespo, J. Diamond: Oral Presentation: The SHELTER Trial Of Transplanting Donor Hepatitis C Virus RNA+ Lungs Into Uninfected Recipients American Transplant Congress : 2022.
Molnar MZ, Potluri VS, Schaubel DE, Sise ME, Concepcion BP, Forbes RC, Blumberg E, Bloom RD, Shaffer D, Chung RT, Strohbehn IA, Elias N, Azhar A, Shah M, Sawinski D, Binari LA, Talwar M, Balaraman V, Bhalla A, Eason JD, Besharatian B, Trofe-Clark J, Goldberg DS, Reese PP: Association of donor hepatitis C virus infection status and risk of BK polyomavirus viremia after kidney transplantation American Journal of Transplantation 22 (2): 599-609,2022.
Potluri VS, Bloom RD: Induction Therapy in Immunologically Well-Matched Recipients: Less May Be More Clinical Journal of the American Society of Nephrology 17 : 173-175,2022.
Potluri, VS, Bloom, RD: Effect of Policy on Geographic Inequities in Kidney Transplantation American Journal of Kidney Disease : 2021.
Reese PP, Mohan S, King KL, Williams WW, Potluri VS, Harhay MN, Eneanya ND.: Racial disparities in preemptive waitlisting and deceased donor kidney transplantation: Ethics and solutions Am J Transplant 21 (3): 958-967,2021.
Potluri V, Schaubel D, Sise M, Concepcion B, Forbes R, Blumberg E, Goldberg D, Reese P, Bloom R, Shaffer D, Chung R, Sawinski D, Strohben I, Elias N, Azhar A, Shah M, Eason J, Binari L, Talwar M, Balaraman V, Bhalla A, Besharatian B, Molnar M.: Oral Presentation: Association of Donor Hepatitis C Virus Infection Status and Risk of Bk Polyomavirus Viremia After Kidney Transplantation American Transplant Congress : 2021.
Reese PP, Aubert O, Naesens M, Huang E, Potluri V, Kuypers D, Bouquegneau A, Divard G, Raynaud M, Bouatou Y, Vo A, Glotz D, Legendre C, Lefaucheur C, Jordan S, Empana JP, Jouven X, Loupy A.: Assessment of the Utility of Kidney Histology as a Basis for Discarding Organs in the United States: A Comparison of International Transplant Practices and Outcomes J Am Soc Nephrol : 2021.
Potluri VS, Sawinski D, Tam V, Shults J, Cohen JB, Wiebe DJ, Shah SP, Berns JS, Reese PP.: Effect of Neighborhood Food Environment and Socioeconomic Status on Serum Phosphorus Level for Patients on Chronic Dialysis J Am Soc Nephrol 31 (11): 2622-2630,2020.