Michael Harhay, PhD, MPH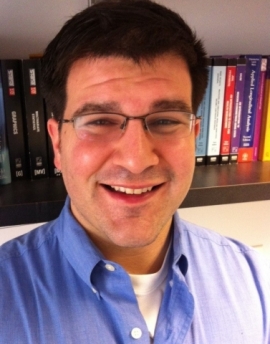 Assistant Professor of Epidemiology and Medicine (Pulmonary and Critical Care)
Dr. Harhay is an Assistant Professor of Epidemiology and Medicine at the University of Pennsylvania. He is also a core faculty member in Penn's Palliative and Advanced Illness Research (PAIR) Center, where he directs the Clinical Trials Methods and Outcomes Lab. 
He is the author of more than 170 scientific publications and leads a research program that primarily focuses on the design and analysis of randomized trials, missing data, and statistical epidemiology. He is the primary investigator of several research projects, including grants from the NIH and the Patient-Centered Outcomes Research Institute (PCORI). His funded projects focus on two separate but related areas to improve outcomes for patients with critical and serious illnesses, such as sepsis, acute respiratory failure, and end-stage organ disease. First, he develops statistical and causal inference methods to analyze informatively missing or censored outcomes in individually- and cluster-randomized trials. Second, he and his team are developing new outcome measures to improve the efficiency and patient-centeredness of trials. Dr. Harhay is also a principal investigator or collaborator for several national and international cohort studies seeking to develop interventions and new approaches for measuring long-term outcomes after hospitalization for critical illness. These projects increasingly include a molecular and immunological focus on the recovery from critical illness, with collaborators from Penn and the UK. 
Dr. Harhay is deeply invested in mentoring and in the development of innovative approaches to teach research methods. At Penn, he has developed several new graduate courses and was awarded the Sandy Norman teaching award from the Masters of Clinical Epidemiology program in 2020 and the Graduate Group in Epidemiology and Biostatistics Teaching Award in 2021. Dr. Harhay also serves on several national and international steering committees, expert panels, and Data Safety and Monitoring Boards in critical care and solid-organ transplantation. He also serves as the Statistical Editor of the Annals of the American Thoracic Society, Editor of the International Journal of Epidemiology, and editorial board member of the American Journal of Respiratory and Critical Care Medicine. He received the 2021 Early Career Achievement Award from the American Thoracic Society Assembly on Critical Care.
Content Area Specialties:
Critical care, pulmonary, and cardiovascular medicine; analysis and design of randomized trials; solid-organ transplantation
Methods Specialties:
Clinical epidemiology, medical statistics (prediction modeling, clustered and multilevel data, time-to-event/survival analysis); informatively missing and truncated data; econometrics and policy evaluation