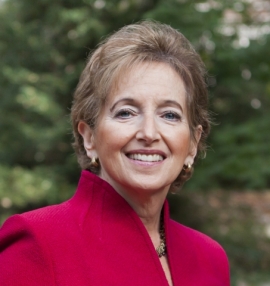 Karen Glanz, PhD, MPH
George A. Weiss University Professor
Karen Glanz, PhD, MPH, also holds positions as Professor of Epidemiology in the Perelman School of Medicine, Professor of Nursing in the School of Nursing, and director of the UPenn Prevention Research Center. She is a senior fellow of the Leonard Davis Institute on Health Economics, the Center for Public Health Initiatives, and the Penn Institute for Urban Research, and a distinguished fellow of the Annenberg Public Policy Center.  She was previously at Emory University (2004-2009), the University of Hawaii (1993 to 2004), and Temple University (1979-1993).
Dr. Glanz is a globally influential public health scholar whose work spans psychology, epidemiology, nutrition and other disciplines. Her research in community and healthcare settings focuses on obesity, nutrition, and the built environment; reducing health disparities; and health communication technologies. Funded for over $40 million over the past 15 years, her research focuses on cancer prevention and control, theories of health behavior, obesity and the built environment, social and health policy, and new health communication technologies. Her research and publications about understanding, measuring and improving healthy food environments, beginning in the 1980's, has been widely recognized and replicated.  She is a member of the U.S. Task Force on Community Preventive Services.  Her scholarly contributions consist of more than 450 journal articles and book chapters.  Dr. Glanz is senior editor of Health Behavior: Theory, Research, and Practice (Jossey-Bass Inc.), a widely used text now in its fifth edition (2015). 
Dr. Glanz has a long history of leading community-based health research and programs, and currently serves in several related roles at the University of Pennsylvania.  She is director of the Community and Collaboration Core of the UPenn CTSA; director of the Pro-CEED community engagement and dissemination core of the NIMHD-funded P60 Center to Reduce Health Disparities in Prostate Cancer; and scientific director of the Recruitment, Outcomes and Assessment Research (ROAR) Core of the Abramson Cancer Center. Previously she served as director of research for the Penn Center for Public Health Initiatives (CPHI). She was director of the Emory Prevention Research Center, a CDC-funded center emphasizing community-based participatory research, evaluation and training (2004-2009), and of the Community Health Research Program at the University of Hawaii's Cancer Research Center (1995-2004).
Dr. Glanz was elected to membership in the Institute of Medicine (IOM) of the National Academy of Sciences (now the National Academy of Medicine) in 2013.  She was named a fellow of the Society for Behavioral Medicine and received the Elizabeth Fries Health Education Award.  She has been designated a highly cited author by ISIHighlyCited.com, in the top 0.5% of authors in her field over a 20-year period since 2006, and was named one of The World's Most Influential Scientific Minds 2015 by Thomson Reuters. 
Content Area Specialties
Adherence, cancer epidemiology, nutrition, prevention, psychosocial, public health, cancer screening, skin-cancer prevention
Methods Specialties
Clinical trials, inter-rater reliability, measurement-error problems, spatial data, validation of behavioral measures