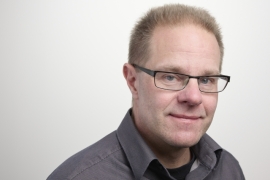 Douglas E. Schaubel, PhD
Professor of Biostatistics (appointment in process)
Dr. Schaubel's methodologic research interests mostly involve survival analysis and the analysis of recurrent event data. His more recent methodology has been at the intersection of causal inference and survival analysis and has focused on the evaluation of time-dependent treatments. Dr. Schaubel has also recently developed methods featuring landmark analysis and temporal process regression. Since 2005, Dr. Schaubel's methodology has mostly been funded by an R01 grant, "Methods for the Analysis of Survival Processes Arising in End-Stage Renal Disease'' for which he is Principal Investigator.
Dr. Schaubel's collaborative work is mostly in the areas of end-stage renal disease and end-stage liver disease.  Dr. Schaubel's collaborations have served as the motivation for the majority of his methods research. Examples of specific areas of his interest include estimating the survival benefit of organ transplantation, and the evaluation of dialysis facilities and kidney transplant centers. Dr. Schaubel spent the first 17 years of his career at the University of Michigan Department of Biostatistics. His collaborators at Michigan included the UM Kidney Epidemiology and Cost Center (KECC); the UM Department of Surgery; and Arbor Research Collaborative for Health. Projects that he worked on included the Scientific Registry of Transplant Recipients contract; the United States Renal Data System (USRDS) contract; and the Dialysis Outcomes and Practice Patterns Study (DOPPS).
Dr. Schaubel is a Fellow of the American Statistical Association. He received the Excellence in Research Award in 2015 from the University of Michigan School of Public Health. He is currently an Associate Editor for, Biometrics, Statistics in Medicine, Statistics in Biosciences and Lifetime Data Analysis. He is also a Statistical Reviewer for JAMA Network Open.
Content Area Specialties
Kidney transplantation; liver transplantation; end-stage renal disease; end-stage liver disease; health services research; evaluation of health care providers
Methods Specialties
Survival analysis, causal inference, analysis of recurrent events, competing risks, facility profiling, matching