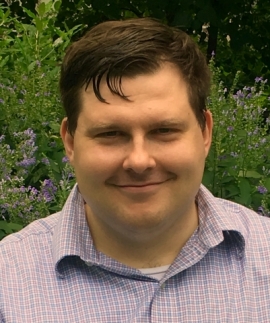 Adam C. Naj, PhD
Assistant Professor of Epidemiology
Dr. Naj is a genetic epidemiologist whose research focuses primarily on the genetics of Alzheimer's Disease (AD), AD-related dementias (ADRDs), and neurodegeneration traits. His studies have focused mainly on gene discovery in whole genome studies of large-scale Alzheimer's disease datasets, including both sequencing and genome-wide association studies, and have expanded to include new applications for and development of statistical genetics methods to identify genes susceptibility to late-onset AD (LOAD) and related complex genetic traits.
His work has included genome-wide association analyses in the Alzheimer's Disease Genetics Consortium (ADGC), the first of which resulted in a lead authorship on the most cited Alzheimer's study of 2011, and has led multiple subsequent analyses in the larger International Genomics of Alzheimer's Project (IGAP). Since joining Penn in 2012, Dr. Naj extended his roles in analysis and data management in the ADGC, including advising the National Institute on Aging Genetics of Alzheimer's Disease Data Storage Site (NIAGADS), based in the lab of Li-San Wang in the Department of Pathology and Laboratory Medicine. He is co-chair of the Quality Control (QC) and Case-Control Analysis Working Groups of the Alzheimer's Disease Sequencing Project (ADSP), which has collected data on 5,000+ whole genome sequences and ~20,000 whole exome sequences of AD cases and controls to identify rare risk-increasing and protective genomic variants contributing to AD. Of late, his work has included guiding development of a new QC pipeline for next-generation sequence data as part of the Genomic Center for Alzheimer's Disease (GCAD). 

Dr. Naj also serves as an assistant professor in the Department of Pathology and Laboratory Medicine at the University of Pennsylvania Perelman School of Medicine. He is one of several Penn co-founders and organizers of the annual Symposium on Advances in Genetic Epidemiology and Statistics (SAGES), promoting the development of methods to analyze genomic datasets.

He has recently expanded his research portfolio to include genomic studies examining pleiotropy, whereby genetic loci contribute to multiple neurodegenerative diseases and phenotypes including AD, Parkinson's disease, and progressive supranuclear palsy, among others, aspiring to identify key genetic contributors to the shared pathologies underlying neurodegeneration.
Content Area Specialties
Alzheimer's disease (AD), AD-related dementias, Progressive Supranuclear Palsy (PSP), Primary Age-Related Tauopathy (PART), Frontotemporal Dementia (FTD), Lewy Body Pathology 
Methods Specialties
Genetic epidemiology, statistical genetics, Genome-wide Association Studies (GWAS), multi-stage analysis, admixture mapping, trans-ethnic GWAS, genomic meta-analysis