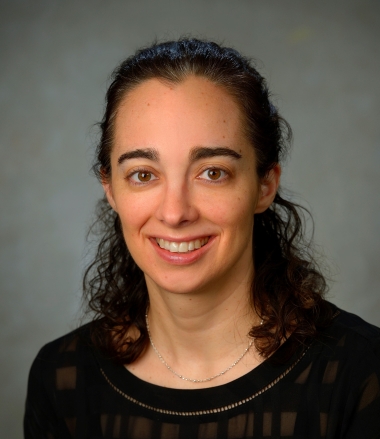 Alexis R. Ogdie-Beatty, MD, MSCE, became the director of the CCEB on June 1, 2022. Dr. Ogdie-Beatty, an Associate Professor of Medicine and Epidemiology in the Departments of Medicine/Rheumatology and Biostatistics, Epidemiology and Informatics (DBEI), has served previously as Deputy Director of the CCEB.
Dr. Ogdie-Beatty is an outstanding physician-scientist who has built a thriving and productive research program focused on improving outcomes for patients with psoriatic arthritis, a chronic inflammatory arthritis associated with psoriasis. The mission of her research program is to improve outcomes for patients with psoriatic arthritis by accelerating diagnosis, increasing the focus on meaningful, patient-centered outcomes, and developing and advancing methods for precision medicine. Dr. Ogdie-Beatty is recognized nationally and internationally as a leader in psoriatic arthritis research. She has published more than 200 manuscripts and has led multicenter cohort studies and clinical trials, treatment guidelines panels, and international working groups. As a part of her work, she co-founded a 501c3 non-profit organization, the Psoriasis and Psoriatic Arthritis Multicenter Advancement Network (PPACMAN) which encourages multidisciplinary collaboration in clinical care and research to improve outcomes among patients with psoriatic disease.
Dr. Ogdie-Beatty's passion for and deep commitment to improving the lives of patients with psoriatic arthritis through translation of population science to patient care was recognized early in her career, and she was named the 2018 recipient of the Marjorie A. Bowman New Investigator Research Award, which honors a junior faculty member whose research has improved the organization and delivery of health care.
In addition to her research accomplishments, Dr. Ogdie-Beatty is a valued and respected mentor and teacher and an advocate for early career investigators. At a national level, she co-developed an inter-institutional early career investigator mentoring program within the American College of Rheumatology, Creating Adult Rheumatology Mentorship in Academia (CARMA).
The CCEB, an interdisciplinary and interdepartmental program that links clinical epidemiology and biostatistics to important clinical problems, has systematically built research and educational programs that have become deeply integrated into the fabric of the DBEI, Penn Medicine, the University and the community. Dr. Ogdie-Beatty's vision for the CCEB emphasizes its important mission and spirit.  "When we work together as a team, combining diverse methods and perspectives, we solve problems better and faster," she writes. "We know that as team leader, Dr. Ogdie-Beatty will continue to strengthen partnerships across campus," commented Dean J. Larry Jameson, MD, PhD, and Executive Vice Dean Jon Epstein, MD, in the PSOM announcement. In this new role, Dr. Ogdie-Beatty will direct more than 100 senior scholars who produce and disseminate high impact scholarship. The CCEB also is the home of the highly regarded Master of Science in Clinical Epidemiology program.
"We are very thankful to Dr. Harv Feldman for his tenure of outstanding leadership of the CCEB. His vision for the CCEB has positioned the success of the center for the future, and we are deeply grateful to him for his continued guidance and support," added Drs. Jameson and Epstein, who also expressed their gratitude to DBEI Chair Enrique Schisterman, PhD,  and to the internal search committee he led.