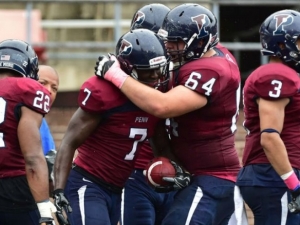 In 2011, facing sharp criticism over athletes' traumatic brain injuries in varsity football, the presidents of the Ivy League launched a system to monitor concussions. Now expanded to all varsity sports and involving the Big Ten as well, the system has become a prospective study with 2600 cases, across 27 different sports. Douglas Wiebe, PhD, and team member Bernadette D'Alonzo, MPH, lead the epidemiological investigation in this cutting-edge collaboration with athletics—which recently yielded striking results. 
In 2015, the kickoff accounted for six percent of all football plays in the Ivy League athletic conference, but was to blame for 21 percent of the concussions. The next year, the League made an experimental rule change — moving the kickoff line from the 35- to the 40-yard line and the touchback line from the 25- to the 20-yard line—and Dr. Wiebe's team has produced rigorous evidence that the change worked: concussions from kickoffs decreased by 68 percent.
Kickoffs occur multiple times throughout the course of a football game, including the start of each half and following a scoring play. During a kickoff return, a player from the receiving team who catches the ball has the option to advance the ball while the opposing team attempts to tackle him, or to take a knee. The play is widely acknowledged to be especially dangerous, however the Ivy League coaches crafted a unique strategy: if more kickoffs landed in the end zone, they reasoned, receiving players would be less likely to advance the ball.
The study results demonstrate how targeted policy changes can effect significant change. "The national conversation on concussions that occur in football can be informed by scientific research aimed at making sports safer," said Dr. Wiebe. "We've found that this simple yet strategic policy change helps sustain the quality of the game, while also making it safer for student athletes." 
In fact, the preliminary results of this Ivy League rule change influenced the NCAA to adopt a new kickoff rule that went into effect for all levels of football at the start of the 2018 season. Under the new rule, receiving teams can call for a fair catch inside their 25-yard line and have it result in a touchback.  The intent is the same as the Ivy League rule: to reduce the number of times the ball is returned on kickoff plays, while not changing the play fundamentally.