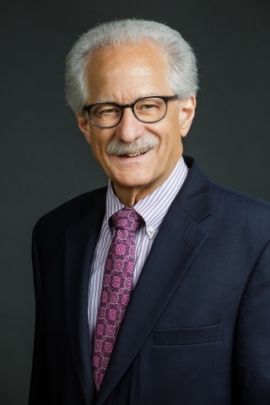 J. Richard Landis, PhD
Emeritus Professor of Biostatistics
Dr. Landis serves as Senior Vice Chair (SVC) of the Department of Biostatistics, Epidemiology and Informatics (DBEI); Director of the Biostatistics Unit within the Center for Clinical Epidemiology and Biostatistics (CCEB); and faculty Director of the Clinical Research Computing Unit (CRCU), a designated core research facility providing clinical research informatics (CRI) collaboration and services for clinical and translational research investigators at Penn. As SVC, he promotes the goals and strategies of the DBEI and serves as its liaison to other PSOM departments, Penn Schools, the Health System and CHOP.
Prior to joining the Penn Biostatistics faculty in 1997 as founding Director of the Division of Biostatistics, Dr. Landis was Professor of Biostatistics at the University of Michigan School of Public Health, where he served on the faculty for 13 years (1975-1988). In 1988, he founded the Center for Biostatistics and Epidemiology (CBE) at the M.S. Hershey Medical Center of the Pennsylvania State University, and served as Director of CBE for nine years before his relocation to Penn. He holds a secondary appointment as Professor of Statistics in Penn's Wharton School.
Dr. Landis has extensive experience leading NIH-funded Data Coordinating Centers (DCCs) for multi-center clinical research networks, and has co-authored more than 180 articles in the peer-reviewed scientific literature in the areas of statistical methods for repeated measurement and longitudinal categorical data, epidemiological studies, complex sample surveys and applications to cardiovascular, ophthalmology, respiratory, psychiatric, renal and urological research.  Dr. Landis is Director of the Research Methods Core and Co-Investigator of the Informatics Core in Penn's CTSA-Hub (2016-21). He serves as DCC PI for NIDDK's "Multidisciplinary Approach to Pelvic Pain (MAPP) Research Network" (2008-22), having previously served as PI of the DCCs for NIDDK's Urologic Pelvic Pain Collaborative Research Networks (CPCRN, ICCTG, CPCRN-2, ICCRN) that conducted 9 RCTs (1998-2008).  He also serves as Penn PI for the Statistical and Data Coordinating Center (SDCC) for NHLBI's "Risk Underlying Rural Areas Longitudinal Study (RURAL)" (2019-2025).  Within renal research, he is MPI (w/ Dr. Feldman) of the Scientific and Data Coordinating Center (SDCC) for NIDDK's "Chronic Renal Insufficiency Cohort (CRIC) Research Network" (2001-23), MPI (w/ Dr. Dember) for NIDDK's "Data Coordinating Center for Hemodialysis Pilot Studies Consortium" (2013-20), and MPI (w/ Dr. Dember) for the Scientific and Data Research Center (SDRC) of the Hemodialysis Opioid Prescription Effort (HOPE) Consortium (2019-2024).
Dr. Landis is recipient of the Mortimer Spiegelman Gold Medal Award (1984), elected member of the International Statistical Institute (1985), a Fellow of the American Statistical Association (1987), recipient of an Environmental Protection Agency Scientific and Technical Achievement Award (1987), the 2010 Penn FOCUS Award for the Advancement of Women in Medicine, the 2011 recipient of the Marvin Zelen Leadership Award in Statistical Science, Harvard University School of Public Health, and the 2014 recipient of the Arthur Asbury Outstanding Faculty Mentor Award.
Content Area Specialties
Cardiovascular epidemiology, gastrointestinal epidemiology, nutrition, pain, prevention, pulmonary epidemiology, renal epidemiology
Methods Specialties
Categorical data, clinical trials, clustered data, complex sample surveys,inter-rater reliability, longitudinal methods, repeated measures