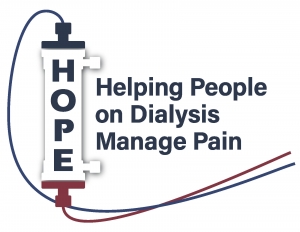 Funding: NIDDK
Investigator: Dember, L.
The HOPE Trial is an NIDDK-funded randomized clinical trial to evaluate approaches to reducing pain and opioid use among patients with chronic pain who are receiving maintenance hemodialysis for end-stage renal disease.  In Phase I, participants are randomized in equal proportion to either Pain Coping Skills Training (PCST) or Usual Care for 24 weeks.  At Week 24, participants in either randomized group who are taking opioids at a dose of ≥20 morphine milligram equivalents (MME)/day are assessed for eligibility to be offered buprenorphine, a safer partial agonist opioid, instead of their current full agonist opioid pain medication.  Eligible participants are encouraged but not required to switch to buprenorphine.  All participants, regardless of opioid pain medication use or agreement to switch to buprenorphine, are followed until Week 36.
The HOPE Trial launched in January 2021 with 14 recruitment sites and has since expanded to 16 recruitment sites, including 5 VA sites.  The trial aims to recruit a sample of 640 racially and ethnically diverse participants representing all regions of the United States.   The HOPE Consortium partners with several large dialysis provider organizations and this trial is being conducted under an IND.
The CRCU supports the HOPE Trial Data Coordinating Center, led by Dr. Laura Dember, with project management, data management, and research technology services.
HOPE  hopehdtrial.org