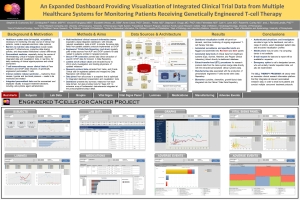 Investigator: June, C
The Clinical Research Computing Unit (CRCU) was contracted by Dr. Carl June in 2012 to provide a 21 CFR Part 11 compliant Data Integration System in support of the Engineered T Cells for Cancer Project. The goals of this project was to develop an integrated, personalized medicine data system incorporating a comprehensive set of clinical, manufacturing and biomarker data from an extensive array of data sources.
Currently the CRCU provides data review, data reporting and programming support to the Center for Cellular Immunology (CCI) for the Engineered T Cells data repository and dashboard we created. Data is being collected from a number of sources and being incorporated into a central T Cells Data Repository.  Data is collected during the conduct of a number of active protocols, several of which  are maintained in individual studies in Velos.  Together with data collected from HUP clinical systems, the Cell Vaccine Production Facility, PPD and the genomics lab, the protocol data can be used to generate reports to inform the study sponsors and the FDA of progress and challenges related to the various protocols.  The data is also available to investigators and bio-statisticians for exploration and analysis.  The CRCU work closely with CCI team members to help optimize data quality assurance processes and to provide effective reporting, visualization and data extraction tools to best leverage the substantial volume of data being collected on study participants.
Picture (above): An Expanded Dashboard Providing Visualization of Integrated Clinical trial data from Multiple Healthcare Systems for Monitoring Patients Receiving Genetically Engineered T-cell Therapy. Presented by Durborow SB, Helker CP, Frangiosa V, et al, at The 7th Annual CHOP Mid-Atlantic Healthcare Informatics Symposium (CHOP). April 25, 2014. Philadelphia, PA.