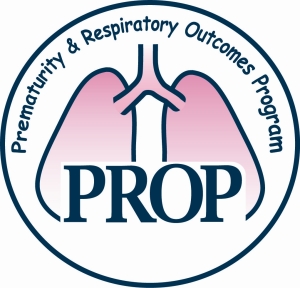 Funding: NHLBI
Investigators: Schmidt, BK; Bellamy, SL; Ellenberg, JH
The primary goal of the PROP studies (single center and multicenter protocols) is to identify biomarkers (biochemical, physiological and genetic) and clinical variables that are associated with and thus potentially predictive of pulmonary status in preterm infants up to 1 year corrected age.  An objective and validated measure of pulmonary outcome at 1 year does not currently exist.   Some promising measures are in development but not yet ready for use in a multi-center large clinical study.
In preparation for launching the study, the CRCU in its role as the Data Coordinating Core (DCC), planned and conducted an extensive training session at Washington University in April 2011 for all PROP research team members. Enrollment began between August 2011 and January 2012 at the 11 original clinical sites. In October 2011, 2 new clinical sites were added from Duke University and Indiana University. These sites began enrolling infants into the cohort study in March 2012.
CRCU has developed a comprehensive website, Oracle Clinical data management system, and several tools to assist sites in tracking the progress of individuals through the study as well as composite reports that provide indicators of study milestones and assist team members in managing work flow. Extensive reporting and quality assessments are included in all aspects of the study tests.
The DCC provides overall coordination, logistical support, and implementation for all aspects of the study protocol including data collection, data processing, tracking of participant recruitment, training, quality assurance, and statistical analysis.  The Clinical Research Computing Unit (CRCU), through its clinical data management, project management, and software systems developments, places into the field and maintains a state-of-the-art www-based data system that accommodates all scientific study data, and permits tracking and coordination of all PROP activities within the framework of multidisciplinary project teams.