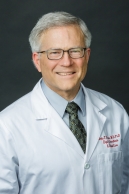 The National Institutes of Health have announced awards from the Helping to End Addiction Long-term Initiative (NIH HEAL Initiative), launched in April 2018 to address opioid misuse and addiction and to enhance pain management. Many CCEB scholars, including John Farrar, MD, PhD (pictured), are key players in related Penn Medicine grants, which total more than $22 million.
Here are the CCEB highlights:
Hillary R. Bogner, MD, MSCE, co-leads a team with David Mandell, ScD, a professor of Psychiatry and director of the Center for Mental Health, and Kyle Kampman, MD, a professor of Psychiatry and director of the Charles O'Brien Center for the Treatment of Addictions, that is receiving a $11.2 million grant from the initiative to study the treatment of opioid use disorder and psychiatric disorders in the primary care setting, with a collaborative care model.
Laura M. Dember, MD, was awarded a $5.5 million grant for a randomized clinical trial of behavioral and pharmacologic interventions to reduce pain and opioid use among people with kidney failure receiving maintenance hemodialysis. J. Richard Landis, PhD,  Dr. Farrar, and Dr. Kampman are co-principal investigators. Additional Penn investigators include Jesse Hsu, PhD; and Danielle Mowery, PhD. Nwamaka Eneanya, MD, MPH, will serve as a co-investigator for the University of Pittsburgh/University of Pennsylvania HOPE clinical center.

Dr. Farrar was also awarded a $931,000 grant for work with the Hospital of the University of Pennsylvania and six additional Penn Medicine centers that will serve as Specialized Clinical Centers — or "hubs"— for the NIH's Early Phase Pain Investigation Clinical Network (EPIPIC-Net). These Centers will provide infrastructure to implement high-quality, comprehensive studies of patients with well-defined pain conditions, as well as the design and performance of two clinical trials to test promising new treatments for pain. Michael Ashburn, MD, MPH, director of Pain Medicine and Palliative Care, will serve as co-principal investigator. Annamarie Horan, PhD, is an additional Penn investigator.
In addition, the researchers will conduct a feasibility study to address the knowledge gap in understanding how opioid exposure impacts early brain development. Kristin Linn, PhD, is a Penn investigator on this team led by Dylan Tisdall, PhD, a research assistant professor of Radiology, and Allyson Mackey, PhD, an assistant professor of Psychology.