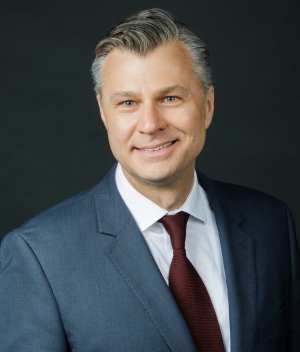 More than 38,000 deaths and 115,000 firearm-related injuries occur each year in the United States, yet over recent decades, gun violence research has been granted only a tiny fraction of the federal funds allocated to study other mortality and death. Now the National Collaborative on Gun Violence Research has announced one of the largest recent funding awards for gun policy research—$9.8 million for 17 studies, including one to the Penn Injury Science Center. Led by Douglas Wiebe, PhD (pictured), this study will use a "hot-spotting" model to explore how state and county firearm mortality rates have changed over time and place, relative to implementation or repeal of state firearm policies.
Dr. Wiebe's "Variability in Assaultive, Unintentional, and Self-Gunshot Injury in U.S. States and State Policy Opportunities for Prevention" will identify U.S. counties that are outliers—either positive or negative–vs. the changes in overall U.S. firearm mortality rates. The researchers will then characterize policy and non-policy differences between these outliers.
As part of the process, they will benchmark U.S. counties by looking at observed mortality rates vs. those that were to be expected, comparing rates over two time periods, 1999-2002 and 2015-2018. They will then estimate the association between enactment or repeal of state firearm policies and the changes in state and county firearm mortality rates. As described by Kit Delgado, MD, MS, a study collaborator, "The basic question is: What can we can learn by contrasting counties in which gun death rates have dropped way more than expected over time with ones where death rates have worsened or are much worse than expected? By using the data to identify those positive and negative "outlier" counties and then comparing them, we can then try to isolate what contributed to the differences, whether it be changes in policies or how they were implemented, the addition or closure of a trauma center, or other factors."
Ultimately the project, which is expected to be completed in mid-2021, aims to identify policies that may reduce or increase the risk of firearm mortality, and to develop novel insights on how to prevent firearm injury deaths. 
Prior to selecting the projects, the Collaborative heard from a range of firearm research stakeholders— including the National Action Alliance for Suicide Prevention, the National Shooting Sports Foundation, the National Rifle Association, March for Our Lives, Everytown for Gun Safety, Major Cities Chiefs Association, and the American College of Emergency Physicians—on where they believed new research on gun policy was most needed. After receiving an outpouring of interest from researchers across the United States, they selected 17 projects. Together the studies will help inform policymakers, police departments, school officials and families in their decisions about gun safety and use, advancing the field through new ideas, new data sets, new research approaches, and new interventions. "America needs evidence-based answers on the causes of gun violence and how to prevent it," said Collaborative Director Andrew Morral. "These research projects, selected first and foremost for their rigor, will generate evidence for informing policy that protects the public and preserves the rights of responsible gun owners."
This is one of many research efforts underway at the Penn Injury Science Center. But as Dr. Wiebe, its director, describes, "given that funding for gun violence research is woefully sparse relative to the magnitude of the burden, we are particular excited about this new award and are grateful to the Arnold Foundation which put forward the funding."  Additional collaborators are Center members Elinore Kaufman, MD, MSCE; Jason Gravel, PhD; and Therese Richmond, PhD.